Black Tenants Lived With Death Threats As Police, Property Management Did Nothing For Months
As Black women, 'we weren't heard,' says Nubrittany Smith.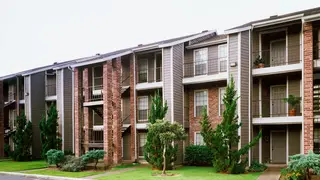 A Black mother and daughter in Oregon feared for their lives and felt trapped by a knife-wielding neighbor who yelled racial slurs at their front door for months while the police and property management ignored their complaints.
Nubrittany Smith told station KOIN that she and her mother moved into their Gresham apartment in early June. Shortly after, their neighbor, 19-year-old Dominic Austin, began harassing them, including threats of rape.
Smith's Ring Security Camera recorded numerous incidents. Austin said, "You're about to get murdered," in one of the recordings.
"We were terrified, we were upset, we didn't know what was going on," Smith said. "Instantly, we took the videos from the Ring camera, attached them to an email and sent them to the Landings at the Morrison (Apartments)," Smith said.
On June 30, one day after the first incident, Smith notified the property manager and the police and reported subsequent threats, which were apparently ignored.
"My mother and I don't feel like enough is being done and that the local authorities and property management don't care until someone is hurt," states a GoFundMe campaign Smith launched.
The property manager finally contacted Austin on Sept. 8 and filed an eviction notice on Sept. 18 – more than two months after the first complaint.
"Part of the rental agreement says that if a tenant should threaten another tenant, the landlord can throw the offender out in 24 hours notice," Attorney Greg Kafoury told the news station.
The Gresham police finally arrested Austin on Sept. 20, even though another neighbor filed a temporary protective order against him in August for similar threats that the individual reported to the police.
"As a Black woman, we, (my mother and me), I felt that we weren't heard. I feel that we were not important," Smith said.
Authorities charged Austin with one count of menacing and 10 counts of violating a stalking protective order.
"The people who run this very large apartment complex didn't give a damn. The police didn't give a damn," Kafoury said. "And I don't know how anyone can look at those videos and come to any other conclusion."
The police cited hate and bias as the motives for Austin's acts in their ongoing investigation that the district attorney's office is reviewing to file all appropriate charges.
"As with all cases where a concern about our response is brought to our attention, we will review our response to identify ways to improve our service to the community," a police statement read.
That's of no comfort to Smith.
"I don't feel safe. Because he's in jail today, but I don't know what tomorrow is going to be. He could be released at any time. Then what happens next?" Smith asked.