Timbaland Apologizes for Suggesting Justin Timberlake Should 'Put a Muzzle' on Britney Spears
The Grammy-winning producer acknowledges his misogynistic comments about the pop star.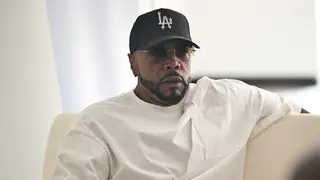 Timbaland has issued an apology after suggesting that his "Cry Me a River" collaborator, Justin Timberlake, should've taken action towards Britney Spears in response to comments she made about the 2000s heartthrob in her recent memoir, including an accusation of him using blaccent.
The Grammy-winning producer went live on TikTok recently, where he apologized to the Britney fans. "You have a voice. You speak what you want to speak. Who am I to tell you what not to speak?" he said, adding, "I was wrong for saying that." While reading an online comment questioning his attitude toward women, Timbaland said, "Hell yeah,'" to respecting women.
Earlier this week, Timbaland garnered backlash following his appearance in a live interview with 9th Wonder at the Kennedy Center on October 29. During the conversation, he was asked by an audience member about the allegations Spears made against Timberlake, including claims that the *NSYNC singer forced her to get an abortion and that he used a blaccent when talking to R&B singer Ginuwine.
The producer said, "She going crazy, bruh," before adding, "I wanted to call JT and say 'Man! You should have put a muzzle on that girl, man!'"
It's the latest industry peer to rush  to JT's defense after singer and reality star Kandi Burruss recently addressed claims of the popstar using blaccent, telling Page Six at BravoCon 2023, "That era of pop and R&B, it was a lot of boy bands that did, like, urban music, urban routines, and dancing, the whole image." She added, "That was in at the time, and nobody was passing judgment."