Big Sean Reveals How His 'Life Is Changing' Weeks After Welcoming His First Child With Jhené Aiko!
The new dad took to social media with a post highlighting special moments in his life.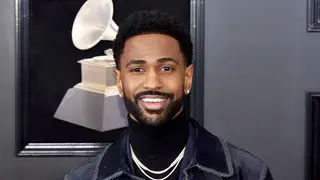 Big Sean is proudly embracing his role as a new father! The rapper recently took to Instagram to highlight some of the special moments he's experienced weeks after welcoming his first child with singer Jhené Aiko.
"Life Is Changing," he captioned a photo gallery of memorable moments since the birth of his son Noah Hasani on Nov. 8.
Keep scrolling to see some of the star's highlights, which includes a heartwarming photo of Sean gently cradling baby Noah at Namiko Love's 14th birthday party!
Sean reposted the family photo on his Instagram Story, along with a sweet message to the birthday girl: "Love you Nami! You're one of the smartest, coolest people on [earth emoji]! My anime plug and newly big sis! This world is a much better place with you in it! Big 14!"
We love to see all the wonderful things happening in the new dad's life. Congratulations, again!