Too $hort And E-40 Release "Triple Gold Sox"
It's out ahead of their Verzuz match on Dec. 19.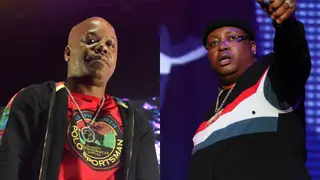 Too $hort and E-40's Verzuz match is around the corner so to celebrate their forthcoming faceoff, the two have released a new single "Triple Gold Sox." 
The single is a nostalgic representation of the signature Bay Area sound that they've cultivated over the course of their legendary careers. It's a celebration of the work they've done that is also grounded in the present. 
Too $hort and E-40 are set to face off in a Verzuz battle on Dec. 19 and it will be the last match of the year. They're facing off against each other, of course, but this match will be less competitive and more celebratory. 
To showcase this celebratory aspect, the two rappers have bundled together new solo albums — Too Short's Ain't Gone Do It and E-40's Terms and Conditions that are set to drop on Dec. 18.
In other related news, Too $hort and E-40 are potentially teaming up with other Los Angeles legends Ice Cube and Snoop Dogg to create a supergroup that won't only release music, but also get into business together. 
Speaking about this new venture, Too $hort told the Breakfast Club, "We not a super-group, we are an LLC. That's what it is."
Check out Too Short and E-40's new "Triple Gold Sox" single up above.