Social Media Reacts to Smokey Robinson's 'Gasms' Album Title
The singer's album already has streets talking.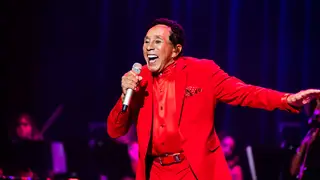 Smokey & Friends, released in 2014, was the most recent studio album from Motown legend Smokey Robinson, who worked with the likes of Elton John, James Taylor, and John Legend. With his first album in nine years, Smokey is bringing his sultry voice back on wax--but, social media users are both shocked and amused by the album's title and salacious tracklist. Gasms features song titles like, "How You Make Me Feel," "I Wanna Know Your Body" and "I Fit In There." The first single is called, "If We Don't Have Each Other."
Fans have thoughts about the new music which is due out in April from the 82-year-old Motown legend.
Smokey will be given the MusiCares Person(s) Of The Year Award at a ceremony on the Friday before the Grammys.
Check out the new single below: