Jamie Foxx's Spokesperson Cracks Down on False COVID-19 Claims, 'Completely Inaccurate'
Rumors have circulated about the vaccine causing the actor's health issues.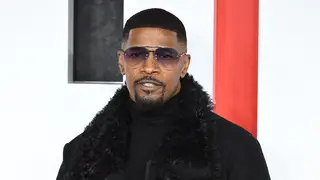 Oscar-winning actor and singer Jamie Foxx has been off the radar since early April.
His daughter, Corinne Fox, disclosed via an Instagram post that has since been taken down that he was hospitalized for a "medical complication" without much further detail of his state. Foxx was working on a film in Atlanta during the hospitalization.
In the post, she continued by saying, "Luckily, due to quick action and great care, he is already on his way to recovery," and later implied that the family wanted this to be a quiet matter, adding, "The family asks for privacy during this time. Much love, The Foxx Family."
Due to a lack of confirmation on a specific medical condition, there has been immense speculation of what has caused these complications—from a car accident to COVID-19.
In a recent Ask Dr. Drew podcast episode, gossip columnist A.J. Benza made a shocking claim that the COVID-19 vaccine left Foxx "partially paralyzed and blind" after causing a clot in his brain, stating his source was "somebody in the room."
Benza continues to say that Foxx's daughters' claims of the actor being in and out of the hospital for weeks are "not true," according to his source.
These extreme claims by Benza have fueled the anti-vax movement, with conservative users commenting on all platforms using this rumor as leverage.
"Liberal democrats, liberal media, #DrFalsee @CDCDirector Michelle Walensky and @JoeBiden, after forcing the Covid vaccine on Americans are praying Actor Jamie Foxx wasn't left partially paralyzed and blind from a blood clot in his brain after taking the Covid vaccine. The #BigCovidLie!" said Republican former House Representative Vernon Jones on Twitter.
Despite the accusations, Foxx's spokesperson has quickly shut down the claims, writing that the rumor is "completely inaccurate" in an emailed statement to NBC.
In a May 3rd Instagram post, Foxx posted a black screen with text writing, "Appreciating all the love!!! Feeling blessed," where he received outpouring support from fans and colleagues. Frustrated amid all these claims, one user wrote, "Hate that his fans have to hear all kinds of fake news instead of something from his family. No kind of updates and people are running with the worst possible scenarios."
Many other media outlets have reported Foxx suffering a stroke, though it has not been officially confirmed.