Columbus Rapper Boog The Bandit Shot And Killed In Robbery Attempt
She was only 26.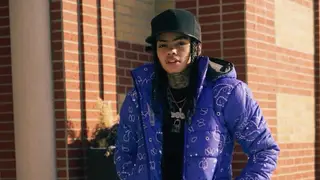 Boog The Bandit, an up-and-coming rapper from Columbus, Ohio, was reportedly shot and killed during an attempted robbery in east Columbus on Thursday evening (May 20), reports say.
According to WBNS 10TV, Mount Carmel East Hospital called authorities after a gunshot victim walked in at around 6:10 p.m. The victim, later identified as 26-year-old Countney Bruce, was pronounced dead a short time later.
According to her Instagram page, Boog dropped "Heart Away," a new song and music video, on the day she died.
"Courtney was a hot tamale, spicy hot, determined, true to her nature, she knew who she was," said Wanda Bruce, Courtney's mother, who said she was sick over violence in Columbus, Ohio. Her daughter became the 75th homicide victim this year, the report notes.
Detectives believe the shooting happened on the east side while Bruce was in the car with a man when the vehicle was surrounded by men armed with handguns, the report says. Police say the men  shot at the car several times, striking Bruce. The man in the vehicle with her drove her to the hospital, where she died, according to The Wiz 101.1.
A suspect or suspects has not been named publicly as of Friday evening. If you have information about this incident, please call the Columbus Police Homicide Unit at (614) 645-4730 or Central Ohio Crime Stoppers at (614) 461-TIPS (8477).