Naturi Naughton Admits She Was 'Embarrassed' Over Split With Boyfriend Months After Their Daughter's Birth
"I didn't tell anybody about our breakup for two years."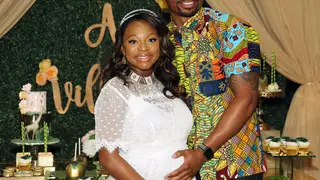 Naturi Naughton is currently riding high with the success of her long-running Starz show, Power, which is currently in its last season. While the actress has many career wins to celebrate, she recently admitted that her private life hasn't always been so successful, particularly following her split from her boyfriend, Benjamin, after the birth of their daughter, Zuri, in 2017.
As previously reported, the actress confirmed back in June 2019 that she and Zuri's father have split.
In a recent open letter to Black women on Essence, Naughton candidly revealed that she was "devastated" about the split and kept it to herself for years because she was humiliated.
"I didn't tell anybody about our breakup for two years because I was embarrassed and ashamed," she said.
The actress went on to share exactly when she knew it was time for her to end the relationship.
"You know in your heart when you're not happy and when you're feeling undervalued," she said. "As soon as you realize that you are settling or conceding your worth, you have to make a move. Check in with yourself and say, 'Wait a minute. Is this what I want? Is this who I really am?'"
The former 3LW star said their relationship issues began when she got pregnant, and in order for her to heal, she was forced to let go of the expectation she had for her love life.
"The truth is, I was afraid to become a mother, and I honestly did not feel ready," she admitted. "I was uncertain about my relationship and unsure if I was going to get married. I wanted to have this perfect life because I had seen it in movies and my parents have been married for 48 years. Then it hit me: The perfect life that I envisioned may not be God's plan for me right now, and it's OK to be on my own journey as long as my daughter is healthy and happy."
She then shared some advice with women who set certain standards for their partners, admitting that she had to reevaluate what she personally wanted in a man.
"As women, sometimes we say, 'Well, I don't want to be with him because he's not this or he's not that,'" she said. "But sometimes it's not about what he is or isn't. It's about what you need, sis. That's another valuable lesson I've learned. I made a difficult choice to end a relationship because I had to put my own needs first."
Read her full interview, here.