Celebrate The Life of DMX With These Essential Records
These songs are some of the rapper's best!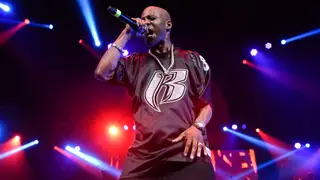 As we approach April 9th, it's a bittersweet reminder of the two-year anniversary of the passing of Earl Simmons, known to the world as the iconic rapper DMX. Despite his untimely death, his legacy continues to live on through his music, artistry, and devoted fanbase who continue to honor his memory.
Growing up, DMX developed an early love for hip-hop that would eventually pave the way for his influential career. Even during his time behind bars, the aspiring rapper channeled his energy and talent into writing songs, honing his craft with an unwavering determination to succeed.
DMX's rise to fame was meteoric, marked by a string of timeless rap records that would forever cement his status as one of the greatest emcees to ever bless the mic. His music not only spoke to his fans but also resonated with those who were struggling with adversity and hardships, making him a beacon of hope and inspiration for many.
DMX's impact wasn't just limited to the music industry; he also touched the lives of those who knew him personally. He was known for his generous heart, often using his success to give back to his community and help those in need. In fact, his music kept the lights on in a few homes, highlighting his unwavering commitment to supporting those who were struggling.
Despite his passing, DMX's influence lives on. His music remains a testament to his artistic brilliance and his unwavering spirit, continuing to inspire countless aspiring rappers and music enthusiasts around the world. So, as we honor one of the greatest emcees that ever lived, let's celebrate his timeless music and the enduring legacy he left behind.
How's It Goin' Down

Arguably one of the best hip-hop summer records, "How's It Goin' Down," finds the late emcee rapping about a love affair he has with a woman who has her own family. But, with the father still in the picture, X wonders whether their relationship could work.

The track, which features vocals from singer Faith Evans, was released in 1998 as the fourth single from the rapper's debut studio album It's Dark and Hell is Hot.

Ruff Ryder's Anthem

Dubbed one of the greatest songs in hip hop, the Swizz Beatz-produced classic "Ruff Ryder's Anthem" is one of many gems from the emcee's debut effort, It's Dark and Hell is Hot. Over two decades after its initial release in 1998, the record reentered the musical charts and posthumously peaked at number 16 on the Billboard Hot 100.

Slippin'

DMX made his sophomore return in 1998 with his second album, Flesh of My Flesh, Blood of My Blood, and "Slippin,"  served as the project's first single.

The song was written by the emcee and produced by DJ SHOK. The accompanying music video famously helped DMX get reduced sentencing for tax evasion.

Where the Hood At?

The emcee is known for delivering several rap anthems throughout his career, "Where the Hood At?" being one of many. The music video was shot in DMX's hometown of Yonkers, NY, and featured guest appearances by longtime collaborator Swizz Beatz and rappers Fat Joe and Busta Rhymes.

Get It On The Floor

A record with DMX and Swizz Beatz will liven up any gathering, "Get It On The Floor" being one of them. The pair co-wrote the song, and Swizz produced it.

We Right Here

DMX released the mellow record "We Right Here" from his fourth studio album, The Great Depression, in 2001. The song was produced by Black Keys and peaked at number 8 on Billboard's Hot Rap songs

Party Up (Up In Here)

Featured on his third studio album, …And Then There Was X, "Party Up (Up In Here)" garnered DMX massive success, ultimately earning the star a Grammy Award for Best Rap Solo Performance. DMX co-wrote the track with Swizz Beatz, who took care of productions. The music video has been viewed over 159 million times on YouTube.