DMX's Daughter Readies Docuseries Raising Fentanyl, Drug Addiction Awareness
"I'm ready to have the conversation that some adults aren't ready to have," the 10 year-old says of the four-part series.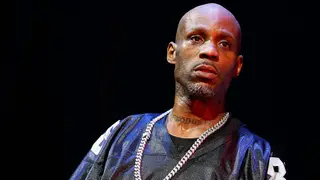 DMX's 10-year-old daughter Sonovah Hillman Jr. is helping raise awareness of drug addiction and fentanyl use with a four-part docuseries.
Hillman, who lost her aunt and uncle to fentanyl addiction and her dad to a drug overdose, shared a GoFundMe page to promote her ambitious initiative. She revealed that she attended a 10-week program held by Drug Abuse Resistance Education (D.A.R.E.) at her school.
According to the CDC, fentanyl is a "synthetic opioid that is up to 50 times stronger than heroin and 100 times stronger than morphine. It is a major contributor to fatal and nonfatal overdoses in the U.S."
She learned about the harmful and dangerous nature of fentanyl, drugs and the addiction that creeps in behind the usage.
"Fentanyl is affecting every gender, race, class and age group," she said.
Wanting to talk to other kids who lost at least one parent to overdose or have parents who are currently still using, Hillman came up with the idea to embark on her docuseries.
"I came up with the idea to do a four-part docuseries on fentanyl and drug addiction," she said. "I wanted to talk to people about their experience, trauma, feelings and come up with the solution for healing. I'm ready to have the conversation that some adults aren't ready to have and try to find out the answer we all want to know: what can we do to help our loved ones get clean and stay clean?"
Independently embarking on the docuseries, Hillman said she's aware that she's just a kid, but "this is a topic that I'm very passionate about."
During the 10-week curriculum, she saw a clip of Tytyana Miller receiving a talk from her father and brother (Master P and Romeo Miller) about the dangers of her addiction. Tytyana battled addiction for nearly a decade before losing her battle in 2022 to an accidental overdose of fentanyl at 25.
At her leisure, Hillman watched old interviews of her dad talking about his drug addiction.
DMX's battle with addiction started in the mid 1990s at only 14 years old. X (real name Earl Simmons) was passed a blunt laced with crack by mentor and rapper Ready Ron. During his telling of the story, X is clearly overcome by emotions, asking, "why would you do that to a child?"
On April 9, 2021, DMX died after a reported cocaine-induced heart attack.
If you or anyone you know is struggling with mental and/or substance abuse, SAMHSA is a free, confidential National Helpline available 24/7, 365 days a year, with treatment referral and information services.