CNN Suspends Roland Martin for Homophobic Comments
CNN has announced that they have suspended Roland Martin for his offensive, homophobic comments made during Super Bowl 2012.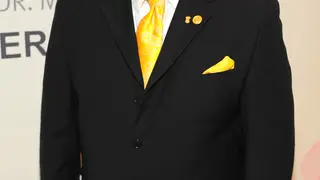 GLAAD and critics of Roland Martin's controversial, homophobic tweets have spoken and CNN has listened.
Although they originally stayed silent on the matter, on Wednesday, CNN announced that they have suspended the contributor for his offensive words.
"Roland Martin's tweets were regrettable and offensive. Language that demeans is inconsistent with the values and culture of our organization, and is not tolerated. We have been giving careful consideration to this matter, and Roland will not be appearing on our air for the time being," the network said in a statement.
During the Super Bowl show, Martin reportedly tweeted that "real bruhs" wouldn't wear David Beckham underwear and that people should "smack the ish out" out of any man that did.
On Monday, Martin's controversial tweets continued as he added, "Who the hell was that New England Patriot they just showed in a head to toe pink suit? Oh, he needs a visit from #teamwhipdata--."
Later on Wednesday afternoon GLAAD responded to the network's decision.
"CNN today took a strong stand against anti-LGBT violence and language that demeans any community," said Rich Ferraro, GLAAD spokesperson. "Yesterday, Martin also spoke out against anti-LGBT violence. We look forward to hearing from CNN and Roland Martin to discuss how we can work together as allies and achieve our common goal of reducing anti-LGBT violence as well as the language that contributes to it.
CNN has not stated if or when Martin will be back on the air.
BET National News - Keep up to date with breaking news stories from around the nation, including headlines from the hip hop and entertainment world.
(Photo: Prince Williams/FilmMagic)