Family Of Alabama Inmate Concerned For His Life Amid Neglect Claims
The family of Kastellio Vaughan say he is being denied proper medical care during his 20-year prison sentence.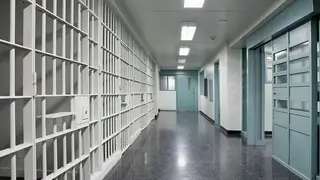 Images of an emaciated Kastellio Vaughan are circulating the internet raising concerns for the 32-year-old man who had surgery for an old injury while serving a 20-year sentence in an Alabama prison.
"He's looking terrible. Just one word, terrible. He's feeling weak in spirit. He's really just, he's really feeling low," Kascie Vaughan told ABC News. "He doesn't look like Kastellio, the brother that we know."
Kascie and her twin sister Kassie have been advocating to get proper medical treatment for their older brother who had surgery to remove part of his small intestine due to an old gunshot wound. However, after the surgery he was returned to general population at Elmore Correctional Center and later transferred to Staton Correctional Facility's Medical Observation Unit.
"He has been in contact with his family to update them on his situation and ease their concerns," the department said in a statement about Vaughan's condition on Friday. "Inmate Vaughan has requested and received medical attention with the ADOC at least 11 times between July 30, 2022, and September 22, 2022. As a result, each time he received appropriate medical treatment and/or care."
"The ADOC offers a constitutional level care to all inmates," the statement continued. "However, inmates are not required to undergo care, just as citizens in the civilian world are afforded choice of whether to receive care."
However, his family notes that his care remains subpar and they have retained famed civil rights attorneys Lee Merritt, Harry Daniels, and Ben Crump to assist them in getting Vaughan quality medical care. The family and their legal team allege that the man has lost 75 pounds in less than a month.
Daniels notes that, "It doesn't matter what Kastellio did, why he was in jail, doesn't matter. As society as a whole, as human beings, we have a duty to one another. It doesn't matter what that person is imprisoned for. We need this man to get well. Alright, we need him to get help. That's not asking for a whole lot."
"This is horrific," Crump said in a statement on Sunday, per ABC News. "Let's be clear, the state of Alabama has tried to deflect any action or responsibility for Mr. Vaughan's condition at every turn. If it wasn't for these pictures, the media spotlight and the resulting uproar, we might never have known about the neglect and Mr. Vaughan would have died before the public knew anything was happening."