Spike Lee Says Chadwick Boseman Did Not Mention Illness During Filming
"No one knew," Lee said of working with him on 'Da 5 Bloods.'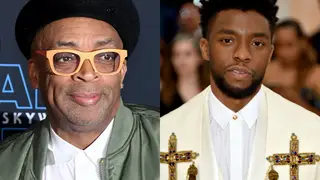 Spike Lee is honoring Chadwick Boseman as a trooper after directing the late star in one of his final films, Da 5 Bloods.
The 63-year-old filmmaker said in an interview Saturday (Aug. 29) that he was unaware that the actor was battling colon cancer, according to Daily Mail.
"I never, ever suspected that anything was wrong. No one knew he was going through treatment, chemotherapy," Lee recalled, speaking during his annual Brooklyn MJ virtual block party for Michael Jackson's birthday. 
"Chadwick, a trooper, never complained. He was there every single minute in the moment." 
Dedicating Jackson's 1991 classic, "Gone Too Soon," to Boseman, Lee said that while filming Da 5 Bloods under insane weather and terrain conditions, "Chadwick was there with us all the way."
'And his performance is a testament to what he put into that role, and all his roles. We miss you, we're going to celebrate your life."
The director and filmmaker also paid tribute to the incredible and iconic actor on his Instagram with several individual posts of Boseman on set for Da 5 Bloods.
"Da Bloods Salute Mr. BOSEMAN As He Finished His Pivotal Role As Stormin' Norman. God Bless," he captioned in one of the posts