Chris Brown Wins Joint Custody of Daughter, Royalty
The pop star also gets to take his little girl home today.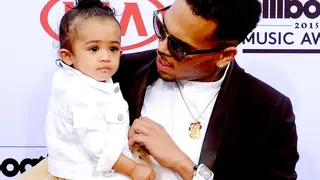 After what seems like years of Chris Brown constantly losing in the legal system, the singer has finally come out victorious, winning joint custody of his daughter, Royalty, this morning.
According to TMZ, Royalty's mother, Nia Guzman, and Brown both went toe-to-toe in a Houston court this morning. Guzman reportedly not only wanted to prevent the "New Flame" singer from gaining custodial rights, but she also only wanted to give him supervised visitation.
The judge ultimately disagreed with her requests, ordering that both parents share 50/50 physical custody of Royalty with the toddler going back and forth between the two every four days. This should be a breeze seeing as both Brown and Guzman currently live in L.A..
In another victory for the pop star, he was ordered to continue paying Guzman the monthly amount of $2,500 in child support, instead of the $15,000 she asked for. To make things even better for the singer, the judge also ordered Guzman not to talk negatively about Brown and also prevented her from revealing anything about the case on social media.
To put the icing on the cake, the 26-year-old R&B crooner also gets to take Royalty home with him today. Congratulations, Chris!
Watch Breezy in his happy place — on stage — in our rundown of his most memorable on-air moments below:

(Photo: Gregg DeGuire/WireImage)