Shar Jackson's Daughter Responds to Chris Massey's Accusations of Child Abuse
She's firmly taking a side.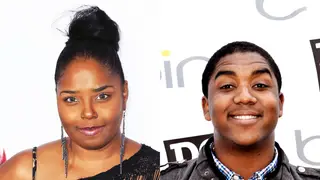 Former Moesha star Shar Jackson was recently hit with a restraining order by Chris Massey, the father of her granddaughter, who claimed she was responsible for the toddler having a four-inch gash on her forehead.
After alleging that the former child star said she would "do whatever she wants" with her grandchild after he confronted her, Massey was granted the motion by the court. Now, however, Massey's ex and Jackson's daughter, Cassie, is speaking out about her daughter's injury and her mother being "falsely accused" in the messy situation.
While Shar, herself, has not addressed the situation just yet, her daughter, the mother of the injured toddler, is speaking out in her defense.
"I told myself this wasn't worth my time, but it is now a legal issue," she wrote in a lengthy Instagram post. "My mother has never laid a finger on my child and my ex is a despicable man for slandering her in a futile attempt to save face after his years of documented abuse."
Continuing to slam her ex, she urged her followers to stop dragging her famous mother's name through the mud, as she was the one who caused her to "see the light" while she was involved with Chris.
"Please stop harassing my mother, who has done nothing but protect me and try to get me to see the light where Christopher is concerned," she wrote. "I have filed reports against my ex in the past, but I chose not to fully prosecute him because of my, perhaps naive, belief that he would change and be a better father to our daughter."
She ended her statement with hopes that her ex is "healed" through prayer.
Read her words, in full, below:
As of now, Shar Jackson is required to stay at least 50 yards away from her granddaughter. Her rep has firmly denied all of the allegations made against her.
Get the latest on Chris's brother's former co-star in the BET Breaks video, above.