Kim Zolciak's Latest Photoshop Job Hits An Unbelievable New Low
It involves her 4-year-old daughter.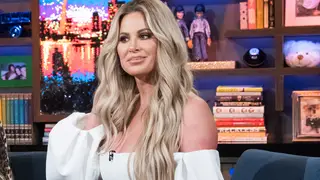 Kim Zolciak is under fire after photos showing what appear to be a difference she inflicted on a photo of her daughter went viral.
The former Real Housewives of Atlanta star, 40, is being accused of photoshopping her 4-year-old daughter Kaia's body after she and her eldest daughter, Brielle Biermann, shared the same photo of the toddler. Each picture showed the child with different sized body parts.
In the photo that the reality starlet posted to Instagram on Wednesday, Kaia can be seen with her twin brother and it appears as the picture had been altered so that her backside looks larger and her nose looks smaller.
Brielle shared the same photo on her Instagram story. However, Kaia's behind appeared smaller in her post. The photo has since been deleted.
Fans took to the comments section to highlight the apparent reshaping of the toddler's body parts with one commenter calling her "demented."
In an elusive tweet, Zolciak appears to have responded to the chatter: