First Trailer For The Controversial Bobbi Kristina Brown Biopic Dropped And Fans Are Not Happy
They really just want to let the music scion rest in peace.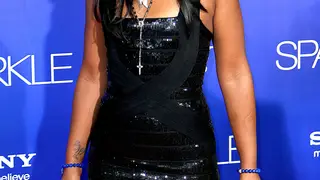 Bobbi Kristina Brown is back in the news again, this time because the late music scion is the subject of a new television biopic that will soon air on TV One. And her fans are not happy about it.
Initial details on the project were released a few months ago, and now the network has dropped the first trailer for the made-for-TV biopic. Almost immediately, Twitter gave it a firm "hell naw."
The trailer for the biopic, which is set to center around Bobbi Kristina Brown, Whitney Houston and Bobby Brown's only child, aired during the premiere of When Love Kills: The Falicia Blakely Story.
The film stars Stuck in the Middle's Joy Rovaris (Bobbi Kristina) and Grown Up's Nadji Jeter (Nick Gordon), and follows their tumultuous relationship prior to her death. The movie also explores Bobbi's struggle with attempting to step outside of the shadow of her famous mother, played by former Real Housewives of Atlanta star Demetria McKinney.
Take a look at the trailer, below:
See the latest news regarding Bobbi Kristina with BET Breaks, above.
Twitter is giving this one a hard pass: