Ryan Coogler And Michael B. Jordan Just Began Cooking Up The 'Creed' Sequel
A new director has come on board.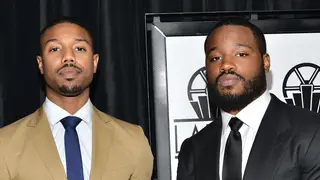 After the massive success of their second major collaboration, 2015's Creed, Michael B. Jordan and Ryan Coogler have teamed up once again for the film's sequel, and they've officially begun production today.
According to the official press release, Jordan, Tessa Thompson and Sylvester Stallone will all return to the ring to reprise their original roles.
However, Coogler, who famously directed the first film, will be wearing the hat of executive producer this go 'round while Steven Caple Jr., known most for the acclaimed drama The Land, will take on the directorial duties.
In the press release, Coogler spoke on confidently handing over the reigns to Caple Jr.
"When I wrote and directed Creed, I wanted to tell a human story about a family from a new perspective, while also paying homage to the Rocky characters we've all grown up knowing and loving," he said. "I've known Steven was an amazing filmmaker since our days at USC film school together, so I can't wait to see what he, Sly, Mike and Tessa bring to this next chapter."
In addition to Jordan, Thompson and Stallone, a few other stars of the film will be returning, including Phylicia Rashad, Wood Harris and Andre Ward.
Creed II is expected to hit theaters in the United States on November 21, 2018.