LeBron James and Savannah James Relationship Timeline
They entered each other's orbit in 2002 and now share three children.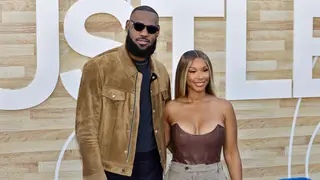 LeBron James and his beautiful queen, Savannah James, marked an incredible milestone. They are celebrating ten dynamic years of marriage. During the past decade, they have had ten times the love, ten times the joy, and ten times the happiness! Along their road to forever, they have also welcomed three exceptional kids: LeBron "Bronny" James Jr., Bryce Maximus, and Zhuri Nova.
As the power couple presses toward the next ten years, here's a glimpse of their storybook romance.
2002: High School Sweethearts

Their puppy love began as teenagers in Akron, OH. The high school athlete was a junior at St. Vincent-St. Mary and young Savannah was a 16-year-old sophomore at Buchtel High School, as cited by The Independent. In 2017, she opened up to Cleveland Magazine about how they met and said a friend spilled the tea that LeBron had a crush on her. After getting his number, Savannah attended one of his games, followed by dinner dates to Apples Bees and Outback Steakhouse, as reported by PEOPLE.

LeBron told The Hollywood Reporter she has been a constant force in his life, even in the early days of his career. "[Savannah] was down when I was at my high school, no cameras, no lights. And she was there with me. You wouldn't be talking to me right now if it weren't for her," he told the outlet.

2004: Here Comes Baby

The couple welcomed their first child, LeBron "Bronny" James Jr., on October 6, 2004, while Savannah was a senior in high school. This was also the athlete's rookie year in the NBA. For the new mom, she was nervous. "I was thinking, 'What am I going to tell my parents? What's going to happen to his career?' I was very scared. I was bawling. But [LeBron] said, 'It's not going to slow me down, and it's not going to slow you down. We're going to keep doing what we have to do,'" she told Harper's Bazaar.

2007: More Diapers Please

Three years after having their first son, their second baby boy, Bryce, entered the world on June 14, 2007.

2011: A Ring of Love

James asked for his leading lady's hand in marriage on New Year's Eve in 2011. The following year, he revealed to Oprah Winfrey what led him to pop the question. "I had been thinking about it, you know, for a while, but it just came to me one day, and I was like, 'This is a part of growth for me,'" he said. "And this is the lady, the woman I've been with, through all the good and all the bad. She's been there for a long time, and I wanted her to continue to be there with me, so I felt like at that moment it was time."

2012: Award-Winning Support

2013: A Vow For Eternity

LeBron and Savannah exchanged vows on September 14, 2023, at the Capella Chapel Grand Del Mar Hotel in San Diego. The beautiful pair had a fairy tale ceremony attended by Dwyane Wade, Gabrielle Union, and Chris Bosh. LeBron shared a throwback memory of their big day to toast their 8th wedding anniversary. "Our own personal Met Gala 8 years ago. Happy Anniversary Queen!! Who am i w/o you in my corner, ABSOLUTELY NOTHING! Love you ♾ 👸🏾🤎🤎🤎🤎🤎," he wrote it in the caption.

2014: A Princess Arrives

The husband and wife proudly welcomed their first daughter –Zhuri Nova– on October 22, 2014.

2016: Along for the Ride

2018: Free Agent Calling Shots

LeBron decided to leave the Cleveland Cavaliers to head west and join the Los Angeles Lakers, signing a $154 million four-year contract. Regarding his decision, he told the Uninterrupted Network the opportunity "was a dream come true."

"Growing up, I was a cowboys fans, I was a Bulls fan, I was a Yankees fan. I've always felt like that was one of the historic franchises."

He added, "For it to all come to fruition at this point, I think timing is everything."

2021: Basketball and Big Screen Dreams

In 2021, the power forward attended the world premiere of his movie Space Jam: A New Legacy alongside his gorgeous wife and adorable daughter. "My daughter is the greatest thing in my life, along with my boys," he told Access Hollywood.

2022: Proud Parents

As Bronny James and his younger brother Bryce follow in their famous father's footsteps, Mom and Dad are there every step. LeBron and Savannah were their biggest cheerleaders during a match between their school, Sierra Canyon, and Christ The King private school—Carmelo Anthony and La La Anthony's son Kiyan plays for—in December 2022.

2023: James Family Values

The James household stepped out so fresh and so clean at the 2023 ESPY Awards. While Savannah stood with their kids on stage, she introduced her hubby to receive the award for Best Record-Breaking Performance. During his acceptance speech, the four-time championship winner announced he would not be retiring soon.