50 Cent's Meme About Zaya Wade And R. Kelly Draws Backlash From Fans
"The fact that so many people think this post is funny is actually sickening..."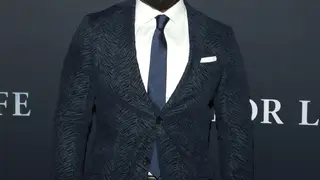 50 Cent has never been one to hold his tongue, regardless if it's for a friend or a foe. However, many feel he took his Instagram shenanigans too far after he made a joke about Dwyane Wade's transgender daughter, Zaya Wade, via a meme on Monday (Feb. 24).
The meme, shared by the Queens rapper, shows the former Miami Heat point guard and incarcerated R&B singer R. Kelly sitting side by side in the front row at one of 2015's New York Fashion Week shows. There are speech bubbles above both of their heads showing an imaginary conversation between the two. "Heard you [have] a daughter now," Kelly's bubble reads. "[You] touch her, I'll kill ya," Wade responds in corresponding bubble. 

"LOL NOW THIS SOME FUNNY S**T," Fifty wrote in the post's caption. 

While some of Fif's followers laughed along with him, others felt his joke crossed the line. Especially in light of the fact that Kelly is currently facing a litany of sexual abuse charges involving minors across multiple states, including child pornography.

"This [is] not funny," one person wrote in the post's comment sections. 

"The fact that so many people think this post is funny is actually sickening," a second person wrote. "S**t like this is what drives KIDS into depression or even committing suicide. 50, your son doesn't even like you which says a lot about your relationship with your child‼"

"I'm certain 50 wouldn't want anyone commenting on his son or family," a third chimed in. "Time to grow up."

The controversy comes after Bronx rap star Cardi B came forward this past weekend to defend the Wade family. Cardi encouraged people to be more understanding of Zaya instead of casting judgement.  "Let people find their happiness, especially kids. Let them feel comfortable doing what they want to be," she said on Instagram Live.

Similar to Boosie and Young Thug's prior comments, Dwayne Wade nor Gabrielle Union have responded to 50 Cent's post. The two have continued to be supportive of Zaya since the 12-year-old disclosed her identity. Earlier this month, Union posted a video where Zaya discussed the importance of her living in her truth while hanging out with D. Wade. He asked Zaya, "even when people are being mean, and even when people are getting hurt because they're trying to be themselves?"

"I know it can get tough, definitely, but I think you push through, and you be the best you," Zaya responded to her father.

Truer words have never been spoken.