Exonerated Central Park Five Member Yusef Salaam Elected To NYC City Council In Full Circle Moment
Once jailed with four other teens for a crime he did not commit, he will now represent Harlem as part of the city's lawmaking body.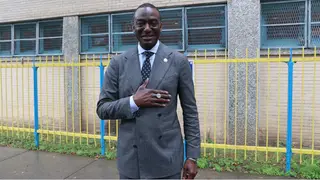 Yusef Salaam, best known as one of the wrongly imprisoned "Central Park Five," won a seat Tuesday (Nov. 7) on the New York City Council without opposition after winning a landslide victory in the June Democratic primary.
For the novice politician, this is a stunning turnaround after he and four other Black and Latino teens were convicted for a 1989 beating and rape of a White woman that they did not commit.
"I am really the ambassador for everyone's pain. In many ways, I went through that for our people so I can now lead them," Salaam, who will represent Harlem in the City Council, told The Associated Press.
Police arrested Salaam at age 15 in an infamous trial that had New Yorkers – including then-mayor Ed Koch, who was said to have blasted the teens as "monsters" – calling for their swift incarceration. A jury found Salaam and the other four teens, Korey Wise, Antron McCray, Kevin Richardson, and Raymond Santana Jr., guilty at trial, based on coerced police confessions, in the notorious 1989 Central Park rape jogger case and served nearly seven years in prison.
In 1989, Donald Trump, then a real estate tycoon, and long before he entered politics, poured gasoline on the racial tensions sweeping the city over the case. Trump took out large ads in newspapers calling for the death penalty to be reinstated and later refused to apologize after DNA evidence cleared Salaam and the other young men.
Their convictions were thrown out in 2002 after a career criminal, Matias Reyes, confessed to the attack and the city paid $41 million in 2014 to settle their civil rights lawsuit. They became popularly known as "The Exonerated Five."
Salaam is a now board member of the Innocence Project and a founding member of Justice 4 the Wrongfully Incarcerated.
"My experiences in the criminal justice system have taught me the importance of speaking up and advocating for those who are marginalized and forgotten by the powers that be," Salaam says on his campaign website about his activism.
"Over the past two decades, I have dedicated my life to activism and education, using my platform to shed light on the impacts of mass incarceration and police brutality and to inspire change."