'Pivotal Moment': Will Smith Reflects On Hollywood Strikes
The Academy Award-winner showed his support for the strike with an IG post.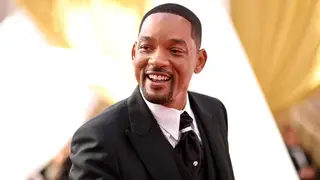 Will Smith weighed in on the ongoing SAG-AFTRA and Hollywood Writer's Strikes in a lengthy Instagram post on Saturday, July 29.
"I wanna talk for a second about ACTING," Smith began, per PEOPLE. "As some of yall mighta heard, my guild @SAGAFTRA are on strike along with our writer colleagues in the WGA," he wrote, adding that "it's a pivotal moment for our profession."
Smith then reflected on his own career, writing, "33 years into my career as an actor and there are still some days when I feel like I'm that kid from Philly who's on borrowed time, even though I know I've been extraordinarily (sic) blessed and lucky to have worked as an actor all this time."
The post was dedicated to Smith's acting coach Aaron Speiser — whom he called "my friend, my teacher and my mentor" and said that he refers to him as "coach" — saying that Speiser has helped reduce the number of those "days when I feel like I don't belong."
"Coach invited me to an acting class the other day, and I met a group of our talented next generation of actors and they amazed and inspired me," Smith added. "I'm grateful to coach for continuing to support these talented hopefuls in this art form that I love and have been lucky enough to work in for three decades of my life! Thanks, COACH!"
Spieser commented on the post, writing, "This means so much to me, Will."
"I've learned just as much from you as you have from me," he wrote. "Come back anytime."
The SAG-AFTRA Foundation, which "offers a vital safety net and industry resources for [SAG-AFTRA] artists and advances children's literacy," according to its Instagram bio, also thanked Smith for speaking up, commenting, "Thank you for your support, Will!"
According to Time Magazine, the Screen Actors Guild and American Federation of Television and Radio Artists (SAG-AFTRA) joined the Writers Guild of America (WGA) in their strike on July 13. The two groups are calling for better pay and job security, and drawing attention to disparities in the film and television industry that have grown wider in the streaming boom.