Will Smith and Jada Pinkett Smith Celebrate Son Jaden's 25th Birthday
The proud parents paid tribute to their son with throwback images.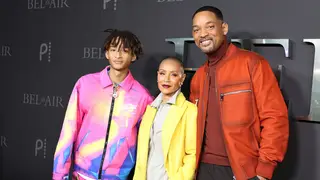 Jaden Smith is celebrating another trip around the sun, and his parents couldn't be more proud.
Over the weekend, superstars Will Smith and Jada Pinkett Smith poured out their love on social media for their son Jaden in honor of his 25th birthday, as reported by Hollywood Life.
The Emancipation star took to Instagram on Sunday (July 9), highlighting one of his favorite photos of the father-son duo. The black and white image shows Will's arm around Jaden's neck as they peer at a piece of paper. "Happy Birthday, J-Diggy. It's crazy that you're 25?!?!", the caption read.
Smith then teased his son, saying, "When I was 25 I had a 2 yr. old… I'm just sayin'… Wha's up? What you doin' over there?"
In harmony with her hubby's post, The Red Table Talk host went the black-and-white photo route with another image of her and Jaden. Pinkett Smith's post featured a throwback picture of her and Jaden in their early moments together. The image shows her holding Jaden as a baby while lovingly kissing him as he cheerfully smiles at her.
And how time flies! That image was followed by a photo of them in December at the premiere of The Matrix Resurrections in San Francisco, in which Jada donned a red Giambattista Valli Haute Couture gown with an extravagant train. Jaden kept the drama going with a black suit with gigantic sleeves.
Jaden didn't let his big day end without showing love to himself. He took to the same platform as his parents with a series of photos. He captioned his post with a simple yet spirited message. "Birthday Boy 🌈🍄❤️❤️💕🫀🌊💙". In his carousel of images, he is seen wearing black sunglasses as he stares down at the camera.