Jackson State's Deion Sanders Named SWAC Coach Of The Year A Second Time
His Jackson State Tigers went undefeated this season with three of his players winning conference honors.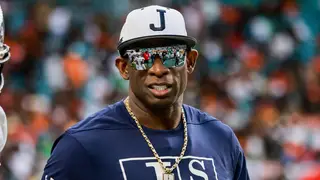 Jackson State football coach Deion Sanders has been named SWAC Coach of the Year on Tuesday (November 29) for the second year in a row.
According to the Jackson Clarion Ledger, in addition to Sanders, three Tigers earned top individual honors in voting by the league's head coaches and sports information directors. Sanders' son and JSU quarterback Shedeur Sanders was awarded Offensive Player of the Year, linebacker Aubrey Miller Jr. Defensive Player of the Year, and wide receiver Kevin Coleman Jr. Freshman of the Year.
Overall, 12 Jackson State Tigers were selected to the all-SWAC team.
This is the second consecutive year the NFL Hall of Famer was named the conference's top coach. He led JSU to the first 11-0 season in program history and has a 22-2 overall record with the Tigers in two seasons as head coach, including a 16-0 record in SWAC play.
Shedeur Sanders and Miller were two of seven Jackson State players named first-team All-SWAC. RB Sy'Veon Wilkerson, OL Tyler Brown, WR Dallas Daniels, DE Nyles Gaddy and safety Cam'Ron Silmon-Craig.
Five Tigers earned second-team honors, including WR Shane Hooks, TE D.J. Stevens, DE Justin Ragin, CB Isaiah Bolden, and kicker Alejandro Mata.
Shedeur Sanders is also a finalist for the Walter Payton Award given to the FCS Offensive Player of the Year. He set school single-season records with 32 TD passes, 284 completions and 3,083 passing yards.