SMH: Jill Scott Goes TF Off After Reading These Creepy Messages In Her DMs Amid Viral Video
"I didn't post that old a** snippet. Piss on whoever did!"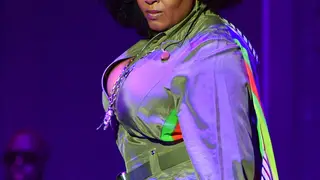 By now, we're sure the entire internet has laid eyes (and dropped jaws) upon Jill Scott's front stage fellatio affair in which the neo-soulstress shared a simulative sex experience with her microphone at a recent concert.
The internet flipped on top of its head after the nearly one-minute-long clip struck social media and skyrocketed Jill's name to the top of Twitter's trending list. For Jilly from Philly, the reenactment was simply another means of her narrative-driven stage performances that she's always tied into her shows. But now that fans are blowing the viral video way out of proportion, Jill felt it necessary to address the controversy again. This time, she's got a message for the fellas blowing over into her DMs as well.
In the less likely chance that you missed it, Jill's NSFW concert footage took the internet by storm earlier this week

After some of the clamor calmed down, she responded with a memo for the 'newbies' who found themselves shocked by the Jill Scott show experience

Jill welcomes the dialogue around it all, but not the disrespect, which she returned to social media to remind her DM-diving male fans…

Particularly, one who suggested a meet and greet with the "Golden" singer after seeing the video.

Jill welcomes those too, but "anything else? Nope," she responded. "I didn't post that old a** snippet. Piss on whoever did!" Had she posted it, Jill continued, there would have been much more context to the video. She'll also have the "idiots, who'll NEVER know what [she] does for the man [she loves]" that her name is not "big head," either. "It's Ms. Monsta Mind or Ms Brilliant Brain Jane [by the way] lil menz."