'I'm A Tough Chick': Kimora Lee Simmons Is Ok After Social Media Feud With Ex-Russell Simmons
The business mogul accused Russell of abusive behavior toward her and their daughters.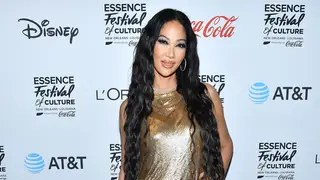 On Father's Day, a family feud spilled onto the internet streets after she and eldest daughters Ming Lee, 23, and Aoki Lee, 20, put Russell Simmons on blast over alleged threats and abuse. But over the July Fourth holiday weekend, the Baby Phat founder, 48, updated fans on her well-being, according to Page Six.
"I'm always OK," Kimora said, according to the entertainment news site. "I'm a tough chick. I'm a single mom of five kids."
The comments were the first since she and her daughters called Russell out for being "directly harmful" to their mental health.
On Father's Day, Aoki claimed in an Instagram post that "every phone call" with her dad resulted in enraged conversations filled with "cursing" and "screaming". In the post she added, "I did not side with anyone over any legal business, he's been directly harmful TO ME." She also said that "He tries to get at my mom by hurting US."
Aoki included a screen recording of a FaceTime call that was on mute while Russell screamed at her. She also shared that although she still loves him, he was "blocked for not respecting [her] boundaries."
Younger sister Ming took a different approach and saluted her mom Kimora on Father's Day instead of Russell.
Russell took to social media on Instagram and apologized for his behavior in a post saying in part he was ""DEEPLY sorry for being frustrated and yelling . . .but know this . . . there are no conditions . . . for sure i love you guys more than i love myself," he wrote to his daughters."