Kimora Lee Simmons Celebrates Son Kenzo's 14th Birthday
The mother of five posted a sweet tribute to her son on Instagram.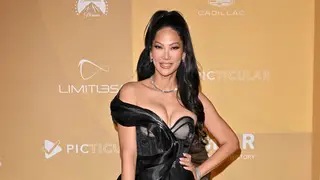 Model and entrepreneur Kimora Lee Simmons shared a heartfelt message on social media about her eldest son, Kenzo.
"My baby boy is 14 ya'll! And a WHOPPING 6'4" (look at that DUNK!) and still growing," Simmons captioned the post. "I am so proud of you my young prince! You are caring, humble, kind, smart, and have the BIGGEST HEART! Stay true to yourself always."
"Mama loves you! My lil partner in life! You're the best son, brother and friend. Sparkling cider CHEERS TO YOU MY BOY!" She added a series of emojis and video of Kenzo playing basketball.
The mom of five shares daughters Aoki Lee, 20, and Ming Lee, 23, with ex Russell Simmons, son Kenzo with ex Djimon Hounsou, son Wolfe, 8, with estranged husband Tim Leissner, and is also mom to son Gary, 13.
The family has had much to celebrate recently. Aoki Lee recently graduated from Harvard and Ming Lee graduated from NYU.
In an interview this spring with People, Simmons shared, "This has been a banner season for our family. Both my daughters graduating the same year — wow! I can't begin to express how proud I am of them. They're both such brainy beauties! And they're all mine!"
She continued, "I want Aoki Lee to keep the same energy and passion she's shown her entire life. It's nice to have a Harvard grad in the family, but it might be nice to have an attorney, too. I've promised myself I'll wait at least a week before I start gently nudging her in that direction, though."
Simmons recently opened up about the challenges of single motherhood, saying, "I'm a single mom of five kids and I know how hard it can be and I don't want to start crying, but it's Mother's Day, I know how that feels like to raise your kids and to get up every day and only care about them."
"And it doesn't matter, if you're rich and famous or you're this thing or this singer, that singer, at the end of the day, you're a mom or you're a cousin, you're an auntie, you're a family member, you're a community person, a caregiver, you're just there trying to make everything come together."
When Aoki Lee graduated last month, Simmons gave a shout out to her "tribe," saying, "I'm so thankful for the village of people that spurred me along and helped keep me focused. My mom, my sister, my little brothers back at home. It took a whole tribe, trust me!"