Quavo Releases Takeoff Tribute Song 'Without You'
The Migos rapper was tragically killed in November.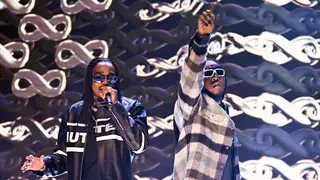 On Wednesday (January 4), Quavo posted a touching but heartbreaking tribute song to his nephew and fellow Migos member Takeoff.
"Long Live Take Unfinity," the 31-year-old rapper tweeted along with the song titled "Without You."
The track is a heartfelt remembrance of Takeoff's life that also got the visual treatment that features Quavo sitting sadly, smoking what appears to be a blunt, and rocking gently in a chair as the song plays.
"Days ain't the same without you / I don't know if I'm the same without you," raps Quavo on the song, which then goes on to reveal what else he misses about his Unc & Phew cohort.
The song then fades away with Quavo singing "Taaaaake… I'm sorry."
Listen to "Without You" below.