New Music Monday: SZA, Polo G, And NLE Choppa Start Your Week With A Fresh Batch Of New Tunes
Tune in every Monday to catch songs you need to add to your rotation.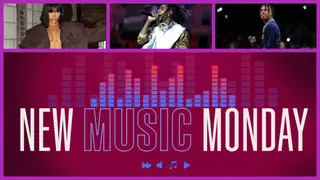 It's hard keeping up with all the new music released each week. Just when you've fallen in love with a certain song, album, or artist, something else drops. It's a fun time to be a music fan, sure, but also tricky.
Rest easy though, as BET has you covered with our weekly New Music Mondays post, featuring some of the latest artists, sounds, and trends in hip-hop, r&b, afrobeat, house and more. We present an eclectic mix of established
You'll find a familiar (and not-so-familiar) array of artists and emerging music. So, without further ado, here are ten new records that you should kick off your week with — led by SZA, Polo G, and NLE Choppa.
SZA dropped her long-awaited sophomore album S.O.S. on Friday with so many new songs on it we didn't know where to start. We selected "Nobody Gets Me" as the TDE singer released a visual for the track in coordination with her new LP. Let's just say, S.O.S. as a whole is a masterclass in composing and songwriting, and "Nobody Gets Me" exemplifies every bit of it.
Polo G chose Friday to release his new single "My All". The track got the Lyrical Lemonade treatment visually and details a lot of the Chicago rapper's journey until now. It's also very introspective about the tragedy and hardships he's faced during his life.
NLE Choppa just released his new song and video for "I Like" in which he makes no apologies for living the good life. In the visual, the Memphis rapper is surrounded by models and covered in icy chains, showcasing his exotic cars, an abundance of money and more.
Additionally, Fetty Wap & Wiz Khalifa, YG & Lil Wayne and Icewear Vezzo & 2 Chainz also released new songs and videos. See our list below.
A Boogie Wit Da Hoodie feat. Kodak Black
Fetty Wap feat. Wiz Khalifa
Icewear Vezzo feat. 2 Chainz