Al Roker 'Feels Good' Following Second Knee Replacement Surgery
The veteran meteorologist is forecasting clear skies after his operation.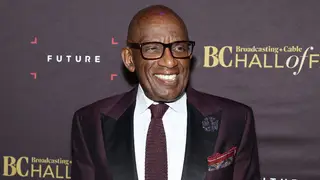 The stars were out at the Veuve Clicquot Polo Classic at the Liberty State Park in New Jersey this weekend.
Today Show star and veteran weatherman Al Roker made it to the event—one of his first since having his second knee replaced on his left leg.
"I feel good," Roker told People. "This is kind of the first thing that I'm going out to, other than work."
He added that it was "nice to be wearing nice clothes," Roker — who attended the event with his wife, journalist Deborah Roberts — continued, "Here we are. You can't help but feel better."
The sold-out tournament returned to Liberty State Park in New Jersey for the first time since 2019. The event has become a regular staple for the New York elite. "It's the kickoff of summer, parties, gathering," Delfina Blaquier, Nacho Figueras' wife and Veuve Clicquot teammate, told WWD.
Late last month, Roker popped onto the Today set to surprise his colleagues a few days ahead of schedule.
"I am doing fine. It is good to see all of you. I'm going to be honest. I've had a number of replacements, knee replacements. It's not a big surprise," Roker said. "This one has been the toughest one yet because they had to take out the old one, which had some complications, and then put in a new one."
"This one is a little more complicated because it's what they call a revision; it was a replacement of a replacement, so they had to take stuff out, put stuff in, so it was a bit of a bear," Roker revealed at the time. "So we've just been kind of hanging out. Chilling out, not doing anything — which I know, a lot of people find hard to believe, but in fact, that is the case."
Roker has lots more to look forward to than just returning to work, and he is anxiously anticipating his first grandchild. The anchorman's daughter, Courtney, and her husband, Wesley Laga, announced she was pregnant in March.
The veteran weatherman is nearing 30 years on morning television. The Radio and TV Hall of Fame broadcast journalist has been Today's premiere weather anchor since 1996.