Al Roker Makes Early Return to 'Today' After Knee Surgery
The legendary weatherman is back after what he calls one of his most difficult surgery recoveries to date.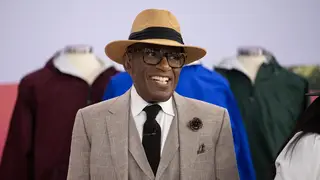 Al Roker popped in to surprise Today anchors Sheinelle Jones, Craig Melvin, and Dylan Dreyer who made an unexpected appearance on the program Thursday.
Per People, the surprise occurred following a segment about National Wine Day, Roker yelled, "Ah ha ha ha!" prompting Dreyer, 41, to scream and set her wine glass down. When the hosts realized it was Roker, they embraced him with hugs.
"What's up, brother? Good to see you!" said Melvin, who added: "We weren't expecting that — clearly!"
Roker, who just had knee replacement surgery, was dressed casually and leaning on a new cane.
He is on the mend and expected to return soon, but stopped by for a visit.
"I am doing fine. It is good to see all of you. I'm going to be honest. I've had a number of replacements, knee replacements. It's not a big surprise," Roker said. "This one has been the toughest one yet because they had to take out the old one, which had some complications, and then put in a new one."
Roker has frequently checked in with fans about his recovery sharing that this surgery was a little more challenging.
"This one is a little more complicated because it's what they call a revision; it was a replacement of a replacement, so they had to take stuff out, put stuff in, so it was a bit of a bear," Roker revealed at the time. "So we've just been kind of hanging out. Chilling out, not doing anything — which I know, a lot of people find hard to believe, but in fact, that is the case."
Roker has lots more to look forward to than just returning to work. He is anxiously anticipating his first grandchild. The anchorman's daughter, Courtney, and her husband Wesley Laga announced their pregnancy in March and Roker wanted to be surprised at the birth, but his daughter slipped up and revealed the sex of the baby.
"She [texted] me a sonogram picture and I said, 'That baby looks just like you,' and she said, 'Doesn't she?' And then you see the bubbles," Roker said, recalling the incident. "[She goes] 'I'm so sorry!' and I went, 'You had one [job]!'"