T.I. Comes To Wendy Williams' Defense Against Body Shamers
"Regardless of her flaws she's still a independent black business woman..."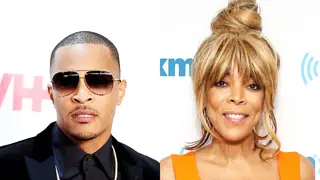 Not being one to hold his tongue, T.I. has been on a roll this week in using his platform to call the internet to order. This time around, however, Trouble Man is coming to the unlikely defense of  Wendy Williams. 
On Tuesday (Sept. 12), the "Live Your Life" rapper took to Instagram to call out internet trolls who had recklessly body shamed the television host after a photo of her in a bikini went viral. The photo in question finds Wendy sporting a black two-piece that revealed she's had a bit of cosmetic surgery. "Ok now as much sh*t as this sister talk about people," the rapper prefaced his lengthy post. "I know what y'all expect. But I'm not gon do the obvious & fye her a** up. NOPE!!!"
"I'm gon be respectful because regardless of her flaws she's still a independent black business woman that's had to fight her way through life to get where she is," he continued. "But I'm gon try something new & different this time." 
Considering T.I. and Wendy's checkered past, you must commend the rapper for taking the higher road and not adding to the unwarranted body shaming. Take a look at T.I.'s message to Wendy Williams below.