Omarion, O'Ryan Spark Outrage After Eating, Sharing Watermelon At Verzuz Battle
Black Twitter users nicknamed the 'Touch' singer Omelon.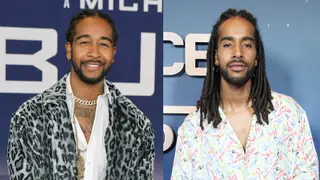 Since its inception at the height of the coronavirus pandemic, Verzuz battles have not failed to deliver viral moments "for the culture." Thursday night (June 23), as R&B stars Mario and Omarion battled it out, there were more than enough moments to choose from.
Black Twitter was already in a tizzy after opening acts featuring lengthy performances by Sammie, Pretty Ricky, and Ray J.
But one moment, in particular, trended for hours on social media: When Omarion and his brother O'Ryan each took a  suggestive bite of watermelon, which they then gave to fans in the front row. They performed to Drake's "Bria's Interlude." 
The scene was something to behold and has earned the "Touch" singer a new nickname, Omelon. 
"Why is Omarion on stage eating a watermelon for entertainment ???? #Verzuz," one fan wrote.
Another added, "Omarion: *Performs oral on a watermelon a week after Juneteenth and shares it with a crowd during a pandemic*" The post was accompanied by a photo of Michael B. Jordan as Killmonger saying, "Is this your king?"
"Verzuz has jumped the shark," shared writer Philip Lewis.
While another writer, Imani Mixon, noted, "performative masculinity and sexuality used to be amusing when i was a teen, but now ? watermelons? humping the ground?"
The performance wasn't enough to give Omarion the win. Twitter resoundingly awarded that honor to Mario who brought clear vocals and hits to the Verzuz stage.
Watch the video below and let us know your thoughts on social media: