Video Of White Chicago Students Driving Around In Blackface And Harassing McDonald's Workers Draws Outrage
A mother of one of the students involved was also criticized for claiming her son didn't know what blackface was.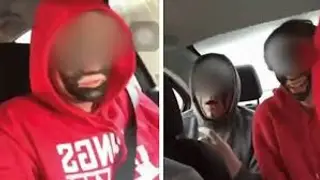 Video of a group of white Chicago high school students driving around in blackface and antagonizing staff at a McDonald's drive-through is drawing national outrage.
Last weekend, photos and videos of the teens were posted to social media, where people identified them as students of Homewood-Flossmoor High School. In the video, the students went through a McDonald's drive-thru and made racist remarks about Black women, ABC7 reported.
Once video from the incident went viral, school administrators reportedly met with the families of the students involved on April 28.

Although school officials said this "highly offensive and culturally insensitive" behavior "will not be condoned," they did not elaborate on what, if any, actions will be taken towards the students.

The mother of one of the sophomore students in the video told Patch her son and his friends did not know what blackface was at the time of the incident. She also said the boys have received death threats as a result of the backlash.

"This is a very serious thing," the unidentified mother told Patch. "As crazy as it sounds, it is not about race. We are not racist. The students didn't even know what 'blackface' meant until they Googled it later. It was a complete dumb and childish act."

Although the mother says the boys are not racist, other students at the school, which is 70 percent African-American, are not buying her excuse.

One parent of a child at the school told NBC 5 Chicago said the teens deserve to be expelled.

"I would like to see some cultural sensitivity training. It should have been done proactively but now that we're dealing with it — let's face it head-on," said Dr. La-Shawn Littrice.

On social media, many people found the actions of the students entirely inappropriate and deserving of at least a suspension.