Lindsay Lohan Calls on Maya Angelou to Shade Jennifer Lawrence
Find out how the Oscar winner dissed the party girl.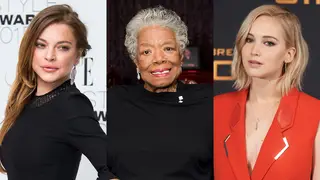 When Maya Angelou wrote the powerful words, "You may shoot me with your words, you may cut me with your eyes, you may kill me with your hatefulness, but still, like air, I'll rise," she couldn't have imagined that one day they would be used as a weapon in a feud between Lindsay Lohan and Jennifer Lawrence.
Well, actress and party girl Lohan did, indeed, invoke Dr. Angelou after Oscar winner Lawrence shaded her during a visit to the Late Show With Stephen Colbert. Lawrence told the host she's been vomiting a lot lately because her nonstop work ethic makes her suffer "Lindsay Lohan-grade exhaustion, but without any drugs or alcohol."
Lohan's little sis Aliana Lohan was the first to slam the Hunger Games actress, posting on Twitter, "I never breathe life into negativity but I stand by my family. Disappointed in Jennifer Lawrence. You lost a fan."
Lindsay then followed up by tweeting Angelou's words with the caption, "thank you sister. Maybe who you're referring to should learn to support others like #MayaAngelou."
We're sure the late Dr. Angelou would be proud to know her words are useful even in a celebrity girlfight. As for J-Law, we doubt she's sweating losing the Lohan sisters as fans. 
Watch Lawrence talk to us about petty Hollywood feuds below:
BET.com is your No. 1 source for Black celebrity news, photos, exclusive videos and all the latest in the world of hip hop and R&B music. 
(Photos from left: Ian Gavan/Getty Images, Ken Charnock/Getty Images, Carlos Alvarez/Getty Images)