What Have We Learned: Missteps and Next Steps for the GOP's Minority Voter Outreach Project
A look at the past and future of the Republican National Committee's Growth and Opportunity Project.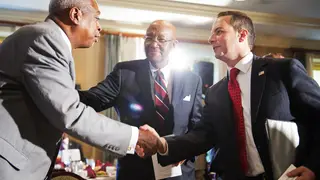 Reince Priebus, chairman of the Republican National Committee, has been on a political high this week. It's a vast difference from a year ago when his party, still licking its wounds after President Obama handily defeated a second Republican nominee, conducted a post-mortem to figure out where the GOP has been going wrong.
Part of the solution leaders prescribed in a subsequent Growth and Opportunity "autopsy" report was the importance of wooing African-American, Latino and other voters whose support had eluded them for so long.
Since then, the RNC has formed advisory boards to counsel party leaders about how to reach certain demographics, conducted listening tours and hired staffers around the nation to train precinct captains to engage locals and help push voter turnout. Priebus also is putting plenty of money where he wants the GOP message to be heard, spending about $12 million on outreach offices alone and making media buys in key markets.
"Now it's not just talk but, for the first time in our history at the RNC that we know of, spending big-time dollars on community leaders talking about what it is that we believe in and getting to know people in those different communities," the chairman told reporters on a Tuesday afternoon conference call.
"Even I, an African-American, have felt at times that we have not been serious about engaging people of different colors in our community and those who may not exactly think the way we do about certain issues, but we don't have to shy away from engaging them," said South Carolina Republican Party committeeman Glenn McCall, a co-author of the RNC's autopsy report. "I'm very proud about what's been done and excited about having hundreds of field workers in various communities where we've never gone before. And, I'm hearing a lot of positive feedback."
Hughey Newsome, a Washington, D.C.-based management consultant and conservative commentator, also applauds the progress the RNC has made toward expanding its base and said in an interview with BET.com that a strong foundation has been put in place. But, moving forward, he added, the RNC will need to work to ensure that the initiative is "embedded in the DNA of the entire party."
That may be Priebus's biggest challenge and perhaps even an unconquerable obstacle.
It's one thing to push limited government and school choice in communities where people actually have options. But in neighborhoods filled with families struggling to survive on minimum wage or living in fear of the day when the unemployment checks stop coming, such messages will likely fall on deaf ears.
And, pocketbook issues aside, dozens of state legislatures across the nation have introduced or passed legislation that many people of color believe will make it more difficult for them to vote. Republican lawmakers on Capitol Hill have, since the Affordable Care Act became law, fought to repeal or weaken what many African-Americans believe will significantly improve health outcomes in their communities. In addition, conservatives making derogatory remarks about women, minorities and members of the LGBT community have made more headlines than the party's outreach effort.
"What the GOP has offered over the past year to solve their problems is simply a change in tactics," the Democratic National Committee chairwoman, Rep. Debbie Wasserman Shultz, told reporters this week. "How effective is outreach when your agenda keeps alienating the communities you're trying to reach?"
It's a question that Priebus has on more than one occasion sidestepped, preferring to maintain what some might call a myopic focus on just showing up where they've not been before. Even if he or the party were to adopt different policies, he says, "If nobody actually knows what I stand for because I'm not in the community talking about it, then I think I've got a problem."
And, when asked how he believes the refusal of Republican lawmakers on Capitol Hill to extend emergency unemployment benefits or consider raising the minimum wage will play in poor Black neighborhoods, Priebus places the blame for that poverty squarely at Democrats' feet.
"The fundamental problem is that Democrats aren't addressing the core root of the problem, which is if you don't have a decent job or freeing up capital or making it easier for people to start their own business and make money and put their kids through school and live what we would consider to be the American Dream, then it doesn't matter whether you increase minimum wage or extend unemployment benefits," he said.
This sort of response makes even the African-American conservatives who wholeheartedly support Priebus's outreach program wince.
For now, Newsome suggests, listening should be another critical next step. The outreach staff's focus, he said, should be on understanding the ins and outs of the specific communities they're trying to engage.
"They have to be able to listen to the specific needs of communities and then show how [GOP] policies can address those needs," he said. "You have to listen and ensure your party leadership is also listening or the whole thing falls apart."
One person who requested anonymity said that Republicans also must start to resist the urge to constantly beat up Democrats and follow New Jersey Gov. Chris Christie's advice to focus more on what the party is rather than what or whom it's against.
"We need to figure out how to create a bridge between what the party stands for and the communities we want to reach instead of constant attacks on a president a majority of African-Americans completely love," the individual told BET.com. "Do you want to grow the party and get people to change their minds or just excite the people who are already voting for you? Too often the GOP goes for the people who already think like they do. That's a trap."
BET Politics - Your source for the latest news, photos and videos illuminating key issues and personalities in African-American political life, plus commentary from some of our liveliest voices. Click here to subscribe to our newsletter. 
(Photo: Tom Williams/CQ Roll Call)