Yes, It's LeBron James Moment, But Don't Forget These 5 All-Time NBA Scoring Leaders
The G.O.A.T. conversation has been bubbling over all day, as it should, but despite James' accomplishment, nobody can overlook these five ballers.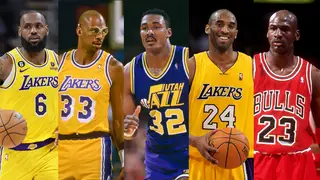 It had been anticipated for weeks, then it finally happened: LeBron James overtook Kareem Abdul-Jabbar as the NBA's All-Time Leading Scorer. Of course, this opens up the endless conversation among fans, journalists, players and wannabe experts on who is pro basketball's "Greatest of All Time."  We're not going to enter that debate – at least not yet, but what we will do is present to you the NBA's top five scoring leaders. Are they the game's Mount Rushmore? That's for others to decide. This list is based on actual league numbers, but you can still argue with your friends in the group chat about what difference their individual eras have on their success and how their teams have impacted their ability to be winners in the game.
1. LeBron James – 38,390 points.

As of Feb. 7, 2023, King James, captain of the L.A. Lakers and one of the most dominant forwards in NBA history, moved past Kareem Abdul-Jabbar as the all-time scorer by hitting a fadeaway jumpshot in the third quarter of the Lakers' 133-130 loss to the Oklahoma City Thunder. It will likely be one of the most celebrated moments of the season and James says despite the 19-years he's had in the league, there are a few more left in him.

"The way I'm feeling, the way my body's been reacting to me throughout this course of the season, I know I can play a couple more years," he said.

2. Kareem Abdul-Jabbar – 38,387 points.

Perhaps the NBA player who most defined what a center is, Abdul-Jabbar was one of the primary architects of the Lakers' dominance through the 1980s. That might be why he held on to the scoring record for 39 years. Not only does he boast six NBA championship rings (one with the Milwaukee Bucks and five with the Lakers), not to mention winning six "Most Valuable Player" awards, he was also the superstar behind UCLA's 88-2 record and three NCAA titles in the 1960s.

3. Karl Malone – 36,928 points.

They called him "The Mailman" because he delivered. In a 19-season NBA career, he was named an All-Star 14 times and was an original member of the 1992 and 1996 USA Basketball Olympic "Dream Team." He was known for the dangerous duo he formed with Utah Jazz teammate John Stockton, a guard-forward combo other teams feared. That level of intimidation also got them to the NBA Finals twice. With a scoring average that never went below 25.2 points per game, there was simply no other person in the NBA at the time who could match Malone as a  power forward.

4. Kobe Bryant – 33,643 points.

This one hurts because it still seems like we didn't give Kobe Bryant enough flowers before his tragic passing in 2020. But we remember his game as if he were still here. The "Black Mamba" was an unquestionable leader who dazzled fans with his winning-is-the-only-option style of play. An 18-time All Star in his 20-year NBA League Career. Teaming up with Shaquille O'Neal and Pau Gasol to take the Lakers to five separate NBA Championships, he also earned two Olympic gold medals and as a tribute to his greatness, he scored 60 points in his final game.

5. Michael Jordan – 32,292 points.

During the 90s, there was only one man who was synonymous with the very concept of basketball, which is why people are willing to fight verbal wars over it when the G.O.A.T. conversation begin to heat up. We barely need to remind anyone that he took the Chicago Bulls to six NBA Championships. He was named league MVP five times and was a 14-time NBA All Star. But people forget he had 10 triple doubles in 100 games and  that he hit the game winning shot in the 1982 NCAA Championship against Georgetown. Nevermind, that his popularity basically built the Nike brand, let's dip into the fact that he had to retire THREE times (1993, 1998 and finally in 2003) before his playing days finally ended.

Today, Jordan is still about that life, now as chair and owner of the Charlotte Hornets, making him the only Black majority owner of an NBA team.