From Football Fields to Soap Opera Screens: 5 Fascinating Facts About 'Zatima's' Redaric Williams
Discover the incredible journey of Redaric Williams, the multi-talented actor behind Paul in 'Zatima,' from Michigan to becoming an award-winning soap opera star.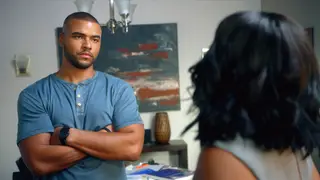 The minute we met Paul, played by Redaric Williams, on Zatima, we knew he would be trouble. He said he was attracted to Fatima but kept it cute because she had a man, Zac. But then Zac started wildin' and sabotaged himself right out of a relationship with Fatima. That's when Paul swooped in and shot his shot. 
So far, Fatima and Paul have been hanging out a lot lately, and it's clear that Fatima likes him even though she's not ready to be in another relationship. We don't know how long Paul, the character, will be around, but ever find yourself wondering about the actor who plays him? As mentioned earlier, his name is Redaric WIlliams, and here are five fun facts about the actor's journey to being cast on Zatima.
He's Originally a Michigander
He was born in Petoskey, Michigan, but moved around a lot growing up. He attended multiple high schools before eventually ending up in Detroit, where he graduated from Denby High School.
He went to college on an athletic football scholarship. He attended the University of North Texas, where he majored in business, before leaving school and traveling abroad. He lived in London, Cape Town, Johannesburg, and New York and was able to study acting in some of those places doing theater and independent films. He sustained himself by working as a bouncer, doorman, and bartender.
He's best known for his role as Tyler Michaelson on The Young and the Restless.  He also appeared in many TV shows and movies, such as Don't Waste Your Pretty, Tales, Lucifer, Double Cross, and more.
In 2014, he won an NAACP Award for Outstanding Actor in The Young and the Restless. He is likely on his way to racking up more awards for another one of the many different roles he takes on.
He likes to stay in shape by boxing, and he's good at it, which you can see here.