Nipsey Hussle's Estate Is Valued At Over 4 Million
The rapper's trademark portfolio alone is worth $913,000.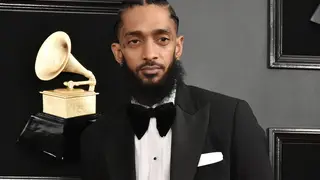 The value of late rapper Nipsey Hussle's estate has been revealed. 
TMZ reports that the estate's final inventory appraisal, according to legal documents, is valued at $4,169,088.57.
According to documents that TMZ obtained, a large chunk of his net worth comes from his trademark portfolio. That alone — which includes his voice, name, photograph or likeness on products, goods, and merchandise — is said to be  worth $913,000.
The rapper also owned 25% stock in The Marathon Clothing that is valued at  $271,000. His 100% interest in All Money In No Money Out Inc. is worth over $2 million.
Hussle's financial success proves that he had the future thought out. His children, Emani and Kross, were previously reported to be set for life since Hussle owned all of his master recordings at the time of his death. He also set up multiple trust funds for his family members. 
Hussle was shot and killed in April of 2019 by Eric Holder. The rapper was 33 years old.