T-Pain To Receive 'Legend Award' at 'Soul Train Awards' 2023 Presented by BET
T-Pain has achieved remarkable success, selling more than 50 million singles, securing ten #1 hits on the Billboard Hot 100, amassing billions of streams, and consistently selling out shows across the globe.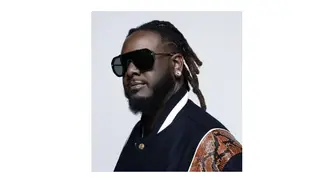 Today, BET announced six-time GRAMMY® Award-winning artist, producer, songwriter, entrepreneur, and global cultural icon T-Pain will receive the 'Legend' award at "Soul Train Awards" 2023.  The trailblazing Tallahassee native has sold over 50 million singles, topped the charts with ten #1 hits on the Billboard Hot 100, racked up billions of streams, and sold out shows worldwide. Arin Ray, Eric Bellinger, Marsha Ambrosius, and Nicci Gilbert will blend harmonies for this year's Soul Cypher, while multi-platinum music producer Bryan-Michael Cox will take command of the turntables. Maeta will also perform, and Honey Bxby and October London will take the BET Amplified stage. "Soul Train Awards" 2023 will recognize the best in Soul, R&B, and Hip Hop from established industry legends and the next generation of promising artists. Hosted by multitalented actress, singer, and entrepreneur Keke Palmer, "Soul Train Awards" 2023 premieres Sunday, November 26 at 8 PM ET/PT on BET and BET Her.
 "When it comes to his overall approach to music as a songwriter, the genius of T-Pain stands among the most memorable and enviable in the business. He has reshaped the fabric of the music industry, and his influence transcends generations in pop, Hip Hop, and R&B," said Connie Orlando, EVP Specials, Music Programming & Music Strategy. "We are honored to celebrate his limitless contributions to the culture at the soulful party of the year: "Soul Train Awards 2023."
 "To be honest, it feels incredible to be recognized by BET as this year's "Soul Train Awards" Legend honoree," said T-Pain. "Not that I'm looking 
for recognition at this point in my career; I'm just doing what I like and what makes me happy, but it still feels great when you receive it. I've done 
a lot in the last 20 years, and for BET to be one of the first networks to recognize that is pretty cool." 
 Taping in Los Angeles, CA, "Soul Train Awards" 2023 will also honor artist Janelle Monáe, who will receive the 'Spirit of Soul' award. BJ The Chicago Kid, Coco Jones, Danté Bowe, Fridayy, Keke Palmer, Muni Long, and SWV are also set to perform.
Summer Walker, SZA, and Usher lead "Soul Train Awards" 2023 nominations with an outstanding ninenods, marking a historic three-way tie. The official "Soul Train Awards" 2023 nominees were selected by a voting academy of esteemed music industry insiders, performers, and presenters. For the complete list of "Soul Train Awards" nominees 2023, click HERE.