Man Saved His Baby Over His Wife And Now People Want To Know Why He Had To Choose At All
"I'm confused too why are they letting us black women die more than any other race in child birth I'm so scared."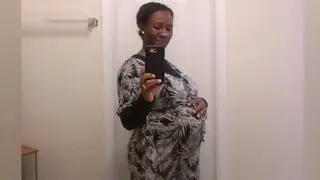 When it comes to complications related to childbirth, Black women are three times more likely than white women to die as a result. After a recent story about a Black woman who died when her husband had to choose between her or her baby went viral, many are wondering why Black women are not being saved in the delivery room. 
Keyvonne Connie was supposed to deliver her baby girl in the middle of January; however, when she began hemorrhaging on Nov. 30, the health of her and her unborn baby was at risk. In the end, her husband had to choose between having her deliver the baby before she went into surgery, which would save the baby, or have surgery first, which could have killed her and her baby.
He chose to save the baby, thinking this is what his wife would have wanted. 
Now, Keyvonne's story has inspired many BET readers to share their own childbirth stories and debate why Black women keep dying when they give birth.
"That had happened to me. I went to the doctor on Monday with my unborn they said every thing is fine and then that night I went to pee and I lost so much blood that my toilet was full with blood and blood was every where. I was fading out and the cops and every thing came to my house n rush me to the er and said my daughter had her hand on the cord and they had to rush me for a emergency C-SECTION and then I woke up to a healthy baby girl and my with 6 pints of someone else's blood in me," wrote Carol.
While many women described similar instances wherein they had to have emergency C-sections, some questioned why these stories seem to be so prevalent. 
"I'm confused too why are they letting us black women die more than any other race in child birth I'm so scared and I'm on bby #5 due in 15weeks," wrote Kiara.
"Why are 'we' dying during birth like this!!?? My sis in law just had complications during birth," commented Ta Mar.
"I'm reading more stories like this every day. I'm 23 weeks and things like this really scare me I pray I have a safe delivery," wrote Cherry.
When it comes to the reason why Black women have a higher likelihood to experience childbirth complications, doctors have not narrowed it down to one reason. 
"Women of color who have multiple health conditions before they have their baby appear to experience a 'double whammy' effect, which should force us to think about how to structure care to best serve these vulnerable women, not only during pregnancy but before and after giving birth too," author Lindsay Admon, an obstetrician at Michigan Medicine's Von Voigtlander Women's Hospital, told the Detroit Free Press.