Martin Lawrence Reminisces On 'Martin: The Reunion' Special, Discusses Thoughts On Potential Reboot
'Martin: The Reunion' is currently streaming on BET+.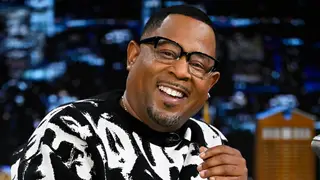 Martin Lawrence went on The Tonight Show with Jimmy Fallon on Monday (June 29) to discuss the possibility of a Martin reboot following the recent release of the Martin: The Reunion special, streaming only on BET+.
Fallon asked Lawrence, how he felt after the reunion, to which he responded:  "It felt great, man, just to see 'em again and get back together."
Adding, "It felt like we was going back to work."
The award-winning entertainer also shared how the reunion didn't feel complete without his dear friend and 'brother' Thomas Mikal Ford. Lawrence explained that he doesn't believe a remake of the original series will be worthwhile for Martin fans with Ford missing.
"I think, well, you know, the Martin show was like catching lightning in a bottle and I don't think we can redo that again," the 57-year-old explained. "I wouldn't mind working with the cast again on something but don't think we can do that again."
In an interview with BET.com, Martin co-star Tisha Campbell, who played Gina in the 90s sitcom also shared her thoughts on why a Martin reboot would be hard to do.
"It's really hard for us to envision anything without Tommy Ford but hopefully, one day maybe we'll figure something out I really don't want to mess with the magic that it already is," Campbell shared. "So I don't see it in the near future."
Watch his interview on The Tonight Show below: