Former South Carolina Gov. Nikki Halley Calls The View's Sunny Hostin A 'Racist'
The former federal prosecutor questioned why the Trump supporter goes by her middle name.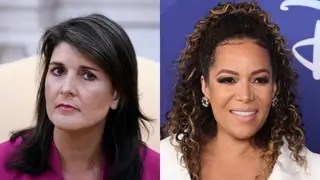 On a Sept. 20 episode of The View, co-host Sunny Hostin questioned why former South Carolina Gov. Nikki Haley doesn't go by her first name. Haley, whose parents are from India, was born Nimrata Nikki Randhawa.
"What is her real name, again?" Hostin asked co-host Alyssa Farah Griffin when Haley was mentioned as a Republican who could run for president in 2024.
"A lot of people don't go by their actual real name," Griffin responded.
"There are some of us that can be chameleons and decide not to embrace our ethnicities so that we can pass, so that we don't have to go by …" Hostin said.
Co-host Sara Haines interrupted the former federal prosecutor with: "Sunny! You go by a different name!" Hostin, who is Afro-Latina, was born Asunción Cummings.
Hostin responded, "That's because most Americans can't pronounce Asunción because of the undereducation in our culture." According to reports, legal analyst Nancy Grace is the person who advised Hostin to use a nickname for television.
The clip quickly went viral, and Haley responded on Twitter by calling Hostin a racist. "Thanks for your concern @Sunny. It's racist of you to judge my name," she tweeted. "Nikki is an Indian name and is on my birth certificate—and I'm proud of that. What's sad is the left's hypocrisy towards conservative minorities. By the way, last I checked Sunny isn't your birth name."
See the clip and Haley's tweet below: