Whoopi Goldberg Suspended From 'The View'
ABC News President Kim Godwin issued a statement on Feb. 1.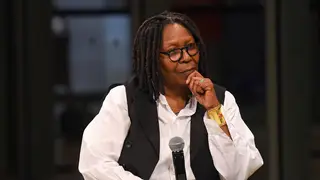 Whoopi Goldberg has been suspended from ABC's The View after she made comments that the Holocaust was "not about race."
News of her suspension came Tuesday evening (Feb. 1) from ABC News President Kim Godwin.
"Effective immediately, I am suspending Whoopi Goldberg for her wrong and hurtful comments," Godwin wrote in a statement that was later posted on Twitter. "While Whoopi has apologized, I've asked her to take time to reflect and learn about the impact of her comments."
Meghan McCain also spoke out about her former The View colleague and issued her own Twitter statement.
"I hate commenting on my old employer because I have moved in every way a person can move on," McCain wrote. "That being said I am an activist against antisemitism and it is a big part of my life."
Adding: "The growing threat is real and virulent and everywhere. I am heartbroken about what was said."
BET previously reported that on the Monday (Jan. 31) episode of The View, Goldberg claimed during a discussion about a Tennessee school district voting to pull Art Spiegelman's Pulitzer Prize-winning graphic novel Maus, which is about the Holocaust, due to "inappropriate language" and nudity.
"Let's be truthful about it because Holocaust isn't about race," Goldberg said. "It's not about race. It's not about race. It's about man's inhumanity to man."
"But these are two white groups of people!" Goldberg said. "The minute you turn it into race it goes down this alley. Let's talk about it for what it is. It's how people treat each other. It doesn't matter if you're Black or white, Jews, it's each other."
On the evening of Jan. 31, Goldberg issued an apology via Twitter and press release, writing, "I'm sorry for the hurt that I have caused." She also reiterated, "The Jewish people around the world have always had my support and that will never waiver."
According to New York Post, an email was sent out to ABC employees from Godwin to explain her decision to suspend the lead moderator on The View.
"Just last week I noted that the culture at ABC News is one that is driven, kind, inclusive, respectful and transparent," she wrote. "Whoopi's comments do not align with those values."
Adding: ​​"Whoopi has shown through her actions of many years that she understands the horrors of the Holocaust and she started today's show with that recognition."
The 66-year-old has been suspended for two weeks, CBS News notes.