Memphis Depay Reacts To New Romance Between Ex Lori Harvey And Trey Songz
The soccer star claimed women are "in [his] DMs all of the sudden."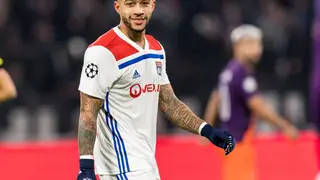 Soccer star Memphis Depay is unbothered by the budding romance between his ex, Lori Harvey, and Trey Songz.
At least that's what he wants us to think.
Depay and Steve Harvey's daughter were engaged, but quietly split in 2017. Although there was no formal announcement about the end of their relationship, some speculated it happened before January, when she was last spotted with her ring.
After the breakup, Lori Harvey has been popping up everywhere from Meek Mill lyrics to intimate nights out with Trey Songz. When the new lovebirds were photographed during a night out, photos were shared to the Shade Room, where Depay surprisingly gave the pic a double tap.
On his own Instagram page, Depay posted a photo to his story with the caption, "Young Queens, why y'all in my DMs all of the sudden?!"
"God's plan isn't always easy, stay calm," he wrote.