Marshawn Lynch Arrested On Suspicion Of DUI
A booking photo of the former NFL star was posted on Tuesday.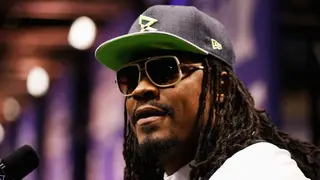 Former NFL star running back and Super Bowl champion Marshawn Lynch was reportedly arrested on Tuesday (August 9) on suspicion of driving under the influence.
According to the Las Vegas Metropolitan Police Department, responding officers stopped the 36-year-old at Fairfield Avenue and West Utah Avenue, just north of the Las Vegas Strip, concluding he was impaired.
A booking photo of Lynch was posted on Tuesday via the City of Las Vegas' official Twitter account.
CNN reports that on Monday, the Seattle Seahawks announced Lynch was hired as a special correspondent for his former team to "produce creative content for a variety of projects." The announcement, according to the news outlet, was no longer on the team's website as of Tuesday afternoon.