Teddy Ray's Body Was Found In A Swimming Pool
News of the comedian's sudden death went viral on social media. He was 32.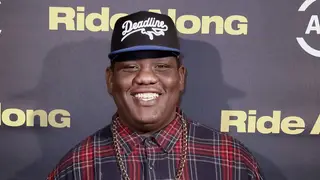 The sudden death of comedian Teddy Ray sent shockwaves throughout social media over the weekend, and now authorities say that the body of the 32-year-old was found floating in a swimming pool.
According to NBC News, the Riverside County Sheriff's Department said in an official statement that Ray, born Theodore Brown, was found at a residence in Rancho Mirage, California.
"No signs of foul play were located," the statement read but the cause and manner of his death still remain under investigation, the sheriff's department said.
The beloved actor and comedian was known for his involvement in sketches on Russell Simmons' digital comedy stream All Def Digital as well as being a cast member on MTV's Wild 'N Out, hosting a podcast called The Cali Kickback with Lewis Ray and appearing on the HBO Max series "PAUSE with Sam Jay."
"Teddy Ray is a great one…his laugh alone would make us all smile and laugh with him," the comment reads. "To know him was to love him. He will be greatly missed in the All Def family. Our deepest condolences and prayers to all friends and family," All Def shared in a statement via comment on TheShadeRoom's post about his untimely passing.
Tributes to Teddy Ray have poured in via social media. Desus Nice, former co-host of Desus & Mero, reacted, tweeting, "rip teddy ray, he was a real one."
"Heartbroken. Gonna miss you teddy," Abbott Elementary's Quinta Brunson, expressed in the comment section on Ray's last Instagram post.
Hoorae Media, Issa Rae's media production company, also shared a tweet regarding Ray's passing, reading, "Rest in Power to our longtime creative collaborator and friend, Teddy Ray. Grateful for the energy you always brought to our projects and sets!"
Ray recently celebrated his birthday on July 30, which was his final IG post.
"Pulling up on 32 like …. Lord I thank you for another lap around this hot ass sun," he captioned his post.
---
You May Also Be Interested In: