This Day in Black History: Aug. 20, 1942
Singer, composer and entertainer Isaac Hayes was born on Aug. 20, 1942, in Covington, Tennessee.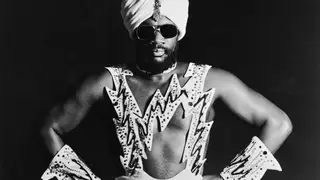 Widely known for his Grammy and Oscar-winning score for the blaxploitation film Shaft, Isaac Hayes is celebrated as one of the most talented African-American musicians. The singer, composer and entertainer was born on Aug. 20, 1942, in Covington, Tennessee.
Hayes and his sister were orphans raised by their maternal grandparents. After his grandfather passed away at the age of 11, he worked several jobs: running errands, cutting the lawn and delivering groceries, to name a few. He found a love for music, singing in church and later in high school, where he joined the band and performed with doo-wop and jazz groups.
Early in his career, Hayes worked with Otis Redding, Booker T & the MGs and the Bar-Kays. But it was his 1969 album Hot Buttered Soul that gave him his breakout moment. His record Theme From Shaft arrived in 1971, and he won the Academy Award for Best Original Song for it. He was the first African-American to win this award.
Hayes went on to make acting appearances on popular television series and feature films such as I'm Gonna 'Git You, Sucka (1988), Escape From New York (1996) and Hustle & Flow (2005).

In 2008, the popular entertainer died of a stroke and is survived by his 12 children and his fourth wife, Adjowa, who he married in 2005.
BET National News - Keep up to date with breaking news stories from around the nation, including headlines from the hip hop and entertainment world. Click here to subscribe to our newsletter. 
(Photo: Hulton Archive/Getty Images)