Police Blame Venus Williams for Car Accident That Left a 78-Year-Old Man Dead
Cops say she's "at fault for violating the right of way."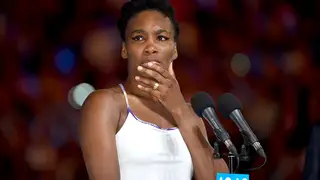 Cops are blaming Venus Williams for a tragic car accident that sent a 78-year-old man to the hospital, where he died two weeks later.
According to a police report obtained by TMZ Sports, the driver of the other car, who was the wife of the victim, T-boned Williams's vehicle after alleging that the tennis star hastily drove into the westbound intersection in Palm Beach Gardens, Florida, on June 9. 
Jerome Barson suffered head trauma and was sent to the ICU unit of a hospital where he died 14 days later. Barson's wife also suffered broken bones among her injuries. Barson's wife is blaming Venus and so are the cops.
"[Williams] is at fault for violating the right of way of [the other driver]," officers wrote in the police report, as reported by TMZ. 
Police said that there's no evidence that Williams, 37, was distracted by a cellphone at the time of the accident. Nor was there any evidence of alcohol or drugs.
Williams is expected to play in Wimbledon next week.
BET Sports News — Get the latest news and information about African-Americans in sports, including weekly recaps, celebrity news and photos of your favorite Black athletes.