10 Things You Might Not Know About Lauren London
Who doesn't love a couple of fun facts? Check Lauren out as "Kim" in Rebel, Tuesdays at 10P/9C!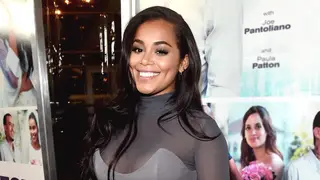 Gemini

She loves Gemini men and is obsessed with Tupac.

Spiritual

She watches TD Jakes when she can't make it to church. She's Christian, but told Jet Magazine she considers herself more spiritual. 

Oh, Barb

She absolutely loves Barbra Streisand.

Don't call my agent

She auditioned for ATL five times and didn't have an agent before landing the role.

For life

She got her boyfriends name tattooed on her when she was 16 and tells young girls, "Don't do it. 'Cause it hurts. The moment you do it, the next month, the next year, you'll be broken up — trust me — and cover-ups hurt. You can show your love in other ways. Ink is not it. Write it on a piece of paper and mail it to him."

Love for Janis

Her dream role would be to play Janis Gaye in a Marvin Gaye biopic. 

Peace

She says the serenity prayer to herself everyday. 

Over and Done

She prefers to play her part in a role and leave it at that. Surprisingly enough, the actress says she has a hard time watching herself on TV!

Black and White

She was born to an African-American mother and a Jewish father. When Lauren was younger, she was teased from both sides of the family for not being "Black" or "white" enough. As an adult, Lauren now tells people that ethnicity is something that helps you to find yourself.

homeschooled

After attending Palisades High School for a little while, Lauren became homeschooled. Being homeschooled gave Lauren the opportunity to focus more of her time on auditions and gigs.